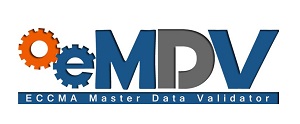 Request eMDV Demonstration
Find out how the eMDV can improve visibility of materials and reduce your inventory costs. Please provide your details below and we will contact you shortly.
ECCMA Master Data Validator, is a web-based cataloguing application, which supports a well documented standard industry process to drive business performance through improved definition of what is bought. The functionality of the eMDV is based on the ISO 8000 and ISO 22745 standards.
Simple, improved visibility and search, combined with the ability for requisitioners and procurement staff to use web-based cataloguing to efficiently create standardized purchase order descriptions and classifications, is often all that is needed to start realizing supply chain cost efficiency in preparation for a larger and more comprehensive MDM software initiative.
The eMDV provides a consolidated material and service catalog to help improve visibility across multiple, disparate and disconnected ERP systems, and offers an efficient method to browse for parts information, with detailed search of the material master database for existing or similar items previously ordered or in inventory. The application also incorporates a process to request and validate data from the supply chain.
The eMDV is linked to the ECCMA Open Technical Dictionary (eOTD) and ECCMA Data Requirements Registry (eDRR).
eMDV Offers
Access to a large library of ISO 8000 compliant templates from the eDRR
Simple method to browse for material information
Advanced search of material master for duplicate and substitutable materials
Validation of specifications by supplier
Powerful Business Intelligence tools
Key Features
Detailed search and screening of items
Automated duplicate recognition
Export of data for review and analysis
Graphical data visualization
Stock optimization
User privilege management